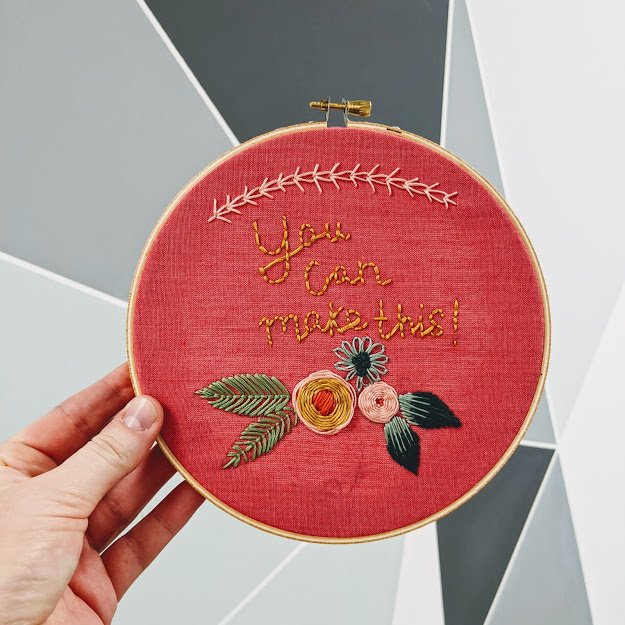 While it helps to have a bit of introductory knowledge for this class, Malisa will be able to help you jump right in and learn these stitches! Embroidery is a fun hobby to explore and this class will focus on techniques to make your botanical and floral scenes extra-magical.

This class is open for ages 14+.
Supplies Needed:
6" or 7" Embroidery hoop
Embroidery needles (whatever size you prefer, just be sure to have at least 2 needles)
Fabric and embroidery floss will be provided for this class
Class Policies & COVID procedures:
Masks are required for all people at all times while inside Craft Habit, regardless of age or vaccination status.
This class requires a minimum of 4 students enrolled, with a maximum of 8. Craft Habit will notify students at least 24 hours in advance if a class is cancelled due to low enrollment. Students will be fully refunded for any classes cancelled due to low enrollment.
Food and most beverages are not allowed during classes, due to safety concerns. You are welcome to bring water in a container that will not spill if knocked over.
Class registrations are not refundable. If you cannot attend, you may find another person to take your place in a class. Please let us know their name in advance of the class starting.
Classes cancelled by Craft Habit WILL be refunded. We will do our best to reschedule classes, and we will refund class registration fees for any classes that we have to cancel for any reason.
To respect our teachers' time, please arrive 5 minutes before scheduled class time unless advised otherwise. Late arrivals may miss important information and may not be able to catch up to the class. We cannot issue refunds for late arrivals. Please shop for your class materials in advance!
| | |
| --- | --- |
| Skill Level: | Beginner |
| Skill Details: | Students should have taken our Intro to Embroidery class, or be familiar with basic embroidery stitches and threading embroidery floss into a needle. |
| Instructor: | Malisa Price |
| Instructor Bio: | Malisa is a multi-crafting, multi-tasking, creative force. She had been obsessed with embroidery and fiber arts for the past few years, but takes breaks to bake, garden, and use power tools on occasion. |